This morning I was perusing Studio Eight and mingo's lingo and found this reply and story by mingo on the topic Mile Marker Zion:
Up on Tug Hill Plateau there is an old guy who every autumn paints this big stone behind his trailer all white then he covers the white with birdforms of every size and shape painted black. It's really wild looking when he's done.
I asked him years ago why he did it. He said it protects the birds while they are gone & helps them find their way back in the spring. I asked him if it worked. He said when someone makes an image, any image, they are invoking the spirit of that image. He said the birds always come back. I said it might not be the same birds. He smiled & said, "It's always the same birds.
When he could no longer take care of himself he was moved into a "health care facility". He asked me to bring him a stone which I did. He paints it every autumn. Paints it white with small birdforms done in black all over its surface. It sits on his windowsill in his room so the birds can see it.
I was so inspired by the story that I had to paint a rock for the birds to protect them and find their way back in spring. This is the result. (I hope I did old Cyrus right mingo...this one is for you.)
mingo's lingo rock
desert mosiac of found glass shards, rocks and sticks and mingo's lingo rock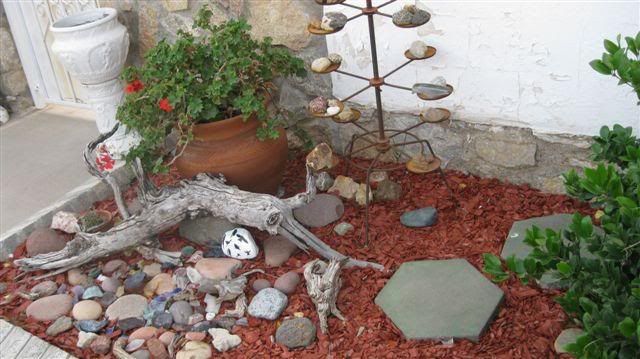 long view of desert mosaic in the front garden with rocks and glass sculpture and my potted geranium
All pictures by Cecil B. Lee