"inner course"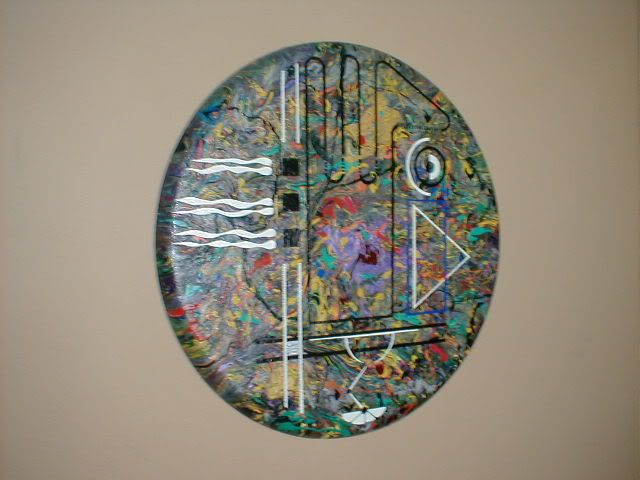 and a close up
[good news. I sold this piece last week]
---
Posts: 375
Joined: August 16th, 2004, 11:20 pm
Location: Montreal , Quebec
Love this piece .

The sperm like shapes ,traveling by pair ; one negative ,one
positive, moving towards the three squares.
making the connection , completing the circuit to ; conscious,
subconscious and self.Black and white curves shaped like
an eye , the triangle shaped like a nose , the semi
circle shaped like an ear , each a receptor of the exterior
world .Sending messages to the brain , creating chemical reactions , translated into human emotion , exploding into vivid colors. Beautifully done , thank you for posting this piece
mtmynd. Anonymous-one.
---
man

i really feel anything i say would trivialize such a great painting so i'm going to stick with my first thought which was: wow! i love inner course!

yeah i think that says it all i'll leave out the tech talk

one question though
i think everyone should just shout it out but
did you laugh when you titled your painting?
---
A-One
- Whoa! What an eye you have!! That was a wonderful description, my friend... Thank you.
Cynthia
- when I titled this piece the name just came out after sitting still with it, enjoying what I felt was its completion - sort of a stream of consciousness scream inside my head. I like those times, don't you? Thanks for your kind words...
---
Posts: 1631
Joined: August 19th, 2004, 8:30 am
Location: Los Angeles, CA USA
Contact:
Dear "emmtee":

A beautiful, densely reticulated piece. I've been reading Ronald Hayman's biography of Carl Jung and this fits right in.

Some of the velleity, even nuanced automatism of the image comes through, simmering and shimmering.

Great stuff-- agile calligraphy and a great title.

Bravo-- and for the sale, too. There must be some Jungian synchronicity in the air-- I just sold two paintings through my "windsurfing" agent.

Take a glance at my self-portrait on the "Self Portrait" thread-- under your marvelous Hubblescape.

Always warm wishes to you and Soozen and Nate,


Zlatko

(NM)
---
Many thx for the kind words on this piece. It was the only round canvas I had ever used... a canvas that I had totally different plans on using, but after some one year or so I ended up using this particular technique on it and after a month or so ended up with (pretty much) what you see here.

I especially liked you own self-portrait.. they pastel-look is a most intriguing 'touch' to the overall feel for the picture. After viewing that and seeing Doreen's photoshop enhancements I might give that technique a try.

Cecil
---
Posts: 551
Joined: August 16th, 2004, 7:25 am
Location: in the best of both worlds
Contact:
whoa! that's incredible. love the closeup. so texture-y.
"YOUR way is your only way." - jack kerouac
---
I sure miss this piece although I am glad for us that you made the sale but...there is a hole knowing I may never see it again.
---
---
Who is online
Users browsing this forum: No registered users and 1 guest