[note: I was going thru my writings and came across this which I wrote May 28,2002. That was nearly 10 years ago and it still has relevance for today's materially oriented world that so desperately wants the latest and shiniest new products that are cleverly marketed to all of consumers]
Upon reading two news articles on the net today, I found myself curious about Capitalism.
First article was about the Arctic and how the Inuit have noticed that the winters are shorter and far less cold than they were in years passed...how new insects have been noticed, ones that their language has no names for, since they have never seen them before, and how the meat from their traditional food source is sickly, i.e., the animals have something wrong with their intestines, and the general feeling that the earth is not right. The Inuit can no longer 'read' Nature, because things are changing.
Second article I read was about Santa Fe, New Mexico. This has become a region where the drought has affected the mainstream way of life. The watering of lawns is limited to once a week, and may be reduced to none at all. However, there is a large self-contained community there for the very wealthy, a community that has its own clubhouse and large golf course. It seems thru some fate that the owner of this complex has the water rights to use as much water as he sees fit to keep the golf course green. The locals are up in arms, so to speak, about this waste of water. This self contained community insists that it has the right to do so, because it is a business. If the golf course died, the fancy community may no longer have the rich moving there.
I was reminded about the fragility of our planet by those two articles...how other obnoxious activities are occurring throughout the world in order for its peoples to feed their families. The Amazon rain forests being logged mercilessly, and for what? - money to buy food for the loggers, money to buy homes for their families.
I could recite volumes about how the earth is being depleted of its resources, but I think most of us are pretty much aware of how much is being lost for the sake of financial survival. And that is the point: "financial" survival.
We have come to call it Capitalism. Free trade. International commerce. No matter what we call it, there seems to be no regard for the consequences of capitalism. We, collectively, consume daily the earths resources at a neck-breaking speed, multiplying at a tremendous rate, each and every one of us requiring food, shelter, energy to cook our foods, keep us warm, keep us cool. Over 6 BILLION (
when written
) of us folks needing this precious commodity - energy - to keep us from dying, to keep us healthy, to keep us happy.
Energy has a by-product - heat. Apparently this global warming has something to do with our consumption of energy, wouldn't you think? Do the people that control the energy give a shit? They are in the same capitalist boat as we are...but they are behind the wheel, driving us to destinations unknown. Where is our port, out harbor...what shores shall we wander upon when and if we reach one?
We all may have opinions, but all opinions are cheap. The earth has no price. It is our home. Nature is our provider. How do we live equitably upon this one rock in the universe and not destroy our home?
Has the time come to face these questions with honesty...with a straight face...with no bullshit clouding the issues? Does capitalism have the answer, or is it time for something new?
[end]
That last question I feel is more important now than it was 10 years ago. There simply isn't enough money to go around our 2012 world population of 7 BILLION people a quick and snappy way of saying our global population today, 3.18.12 has reached Seven Thousand MILLION people, each one requiring nourishment and shelter at their very minimum. With every grain of rice or every glass of water up for sale to the highest bidder we are headed to a disaster never before imagined in our history upon this singular planet.
Only yesterday I was startled to read an article where "one of the worst poaching massacres in decades, as many as 200 elephants have been killed for their tusks since January by poachers on horseback from Chad and Sudan..." These innocent and nearly extinct animals who have shown a high degree of intelligence, were (apparently) slaughtered for a "... rising demand in Asia for jewelry and ornaments made from elephant tusks." This happened in Cameroon's Bouba N'Djida reserve
Take the lives of 200 endangered animals only to saw their tusks off their lifeless bodies and then thru a moneyed system eventually reach the supplier who in turn will make jewelry from those same tusks and sell them to the highest bidder. Capitalism is flourishing while wisdom and compassion are barely surviving in the drought of common decency and our most precious need for beauty... and how can the beauty of a wondrous animal such as an African elephant ever be replaced by some jewelry piece that incorporated that same animals tusks?
We have gone mad in our untamed and senseless desire to make money for a singular purpose - to survive, some to barely escape hunger and thirst all the way to those who feel they cannot survive without an extra 10 million dollars in their bank account... unrealistic our world, this world of hu'manity, has become.
This is what happens when compassion (our highest form of love) has no room in our societies to thrive... when wisdom becomes a foreign language that has no purpose in our narrow-minded lives where the fixation for money has become the gauge of our intelligence. We will eventually pay for our shortsightedness, perhaps not in our lifetimes but the debt will have to be repaid and far too many will reap the consequences.
The only solution on the horizon is that of seeking an alternative to our present form of exchange... one that values our hu'man brothers and sisters over the amount of monies that presently have a stranglehold on the peoples of today. Will that day ever arrive? Like all things for our species, we will always be faced with two choices. It is incumbent upon our instinctual goodness to choose that which benefits the well-being of this planet.
cecil
3.18.2012
Picture of the Week:
"
Togetherness
"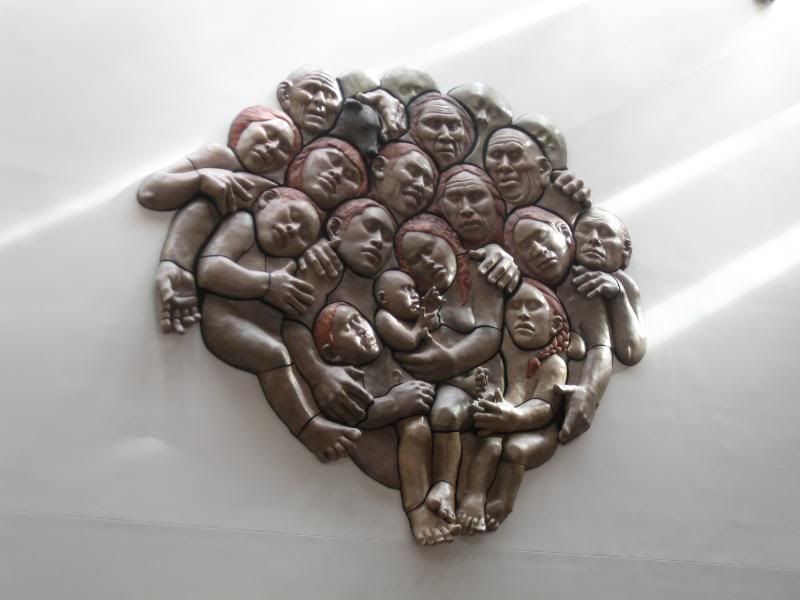 photo: cecil [
taken in Santa Fe, New Mexico... artist unknown
]