Posts: 72
Joined: June 7th, 2005, 12:52 pm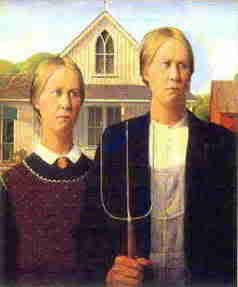 Original by Grant Wood; tweaked by R & S with photoshop and Paint
---
Posts: 72
Joined: June 7th, 2005, 12:52 pm
(ok only one image on the thread I see)
Last edited by
ren&stimpy
on June 17th, 2005, 4:00 pm, edited 1 time in total.
---
Posts: 1078
Joined: September 3rd, 2004, 11:43 am
Location: black forest, germany
Contact:
the barricade
of an empty memory, and the face, absent,
still blooming in their urn of hope:

as if the the singing alone
had led them back
to this place,
as if this was the tune
they needed to renounce

their eyes are wide open
they sing of nothing

they go blind
in the day that
goes out with them

this silence is bright

there are no boundaries
in light
---
Posts: 5211
Joined: August 15th, 2004, 6:57 pm
Location: between my ears
Contact:
I'll Grant you
this is home homo on the range

or the 'murican icon
of love thy neighbor as thyself
did the puritans have lesbians?

ok, don't let me ride on my trident
like a demon in repose
"These words don't make me a poet, these Eyes make me a poet."
The Poet's Eye
---
Posts: 72
Joined: June 7th, 2005, 12:52 pm
---
---
They're not my shape

They're not my style

And their formless form

Doesn't drive me wild


Tho it's different strokes

For different forks

This portrayed

Leaves me

Ren and Stimpyfied!!!!
I used to walk with my head in the clouds but I kept getting struck by lightning!
Now my head twitches and I drool alot. Anonymouse

[img]http://img.photobucket.com/albums/v475/mousey1/shhhhhh.gif[/img]
---
Who is online
Users browsing this forum: No registered users and 1 guest