During normal business hours Dr. Andy Scoop is known as one of the friendliest, student-oriented professors to be found on the C-SUK campus. Hard working, with a ready smile, and dedicated to helping students master the Middle English of Chaucer, Scoop also is devoted to the California BDSM scene, and he is known as a willing "bottom" in the bondage underworld of Putosberg. The gregarious Scoop is not shy about his taste for hardcore leather sex. "Yes, after a hard day of explaining the Canterbury Tales I like to unwind by being bound, gagged, and forced to do whatever my Master or Mistress wants me to," says Scoop.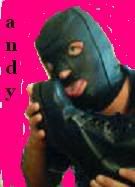 Dr. Andy Scoop, C-SUK Bootboy
Currently a slave in the stable of Mistress Plugowski (also a Professor at C-SUK) Scoop claims that "being regularly punished and humiliated by my Mistress has a relaxing and curative effect." Scoop occasionally invites special students in his graduate level courses to his West Putosberg home, which he shares with Plugowski and his longtime companion, Steve Kartier, another C-SUK English professor with a taste for discipline. Select students are allowed to take out their dominating fantasies on Scoop and Kartier while they are naked, with leather hoods on, and tied to a bench. "Like my partner Steve, I am a worthless grovelling human bug," says Scoop, "and I want my students to remind me of that."
________________________________________________
If you live somewhere near north El Lay County, perhaps you have heard of the Right Reverend Fry, a genuine Professor of English, currently grafting and embezzling state funds at CSU-Stoogeridge. Although he proclaims himself an expert in the writings of Louisa May Alcott and other useless, sentimental American crap of the 19th century, Lil' Stevie Fry couldn't write if you paid him, unlikely knows what a summation sign is, and is easily stymied by the present indicative of "avoir". This CSUN business major flunkie, this sunday-school going, closet-case hayseed, allegedly has a PhD from Purdoo or some hick school in the midwest, where if you have a few thousand they'll print ya up a Humanities PhD in a back office, out by the cornfield.
Fry the hayseed somehow managed, like the typical Northridge huckster, to wedge his way into the Cali belle-lettrist system. Some of us who have heard Lil' Stevie prattle on like an undergraduate biz major about post-modernism-lite must have chuckled to hear of his PhD and his "professorship." Like the usual CSUN moron, this sunday-school phaggot Fry could not do philosophy if you shoved his Good Book up his pathetic ass. Really I was going to compose a rather lengthy and thought-out satire of his cheap, white trash attempts at literary criticism, his insights on Louisa May (Louisa Fry Stevecott?), but a wheezing X-tian worm such as Louisa Fry is not worth such an expenditure of energy. Another piece of belle-lettrist vermin, Fry also is On the Road to Malebolge, where, in his final abode, he will endure, along with other suitable punishments, Melville laughing and pissing on him for his repeated manglings and misconstruings of Moby Dick.